Successful apprentices at FACC
The young people achieved excellent results in their final apprenticeship examinations. Apprenticeship training in the future-oriented aerospace industry has high priority at FACC.
Young and committed: The 13 apprentices of the FACC Future Team have now all successfully completed their apprenticeship training. This is a big step for FACC, and an even bigger step for the professionals of the future.
As one of the most important employers in Upper Austria, FACC takes its responsibility for training apprentices very seriously. Young people receive training in preparation for the future-oriented aerospace industry each year. After completing apprenticeships of three and a half or four years in the fields of plastics engineering, design engineering, milling, cutting and machining, process technology or information technology, highly qualified young people have all manner of professional opportunities in the aerospace industry. Eight graduate apprentices passed their final examinations with distinction, and three passed with merit. This result confirms the commitment and high level of qualification of the FACC Future Team.
Josef Angleitner
Tobias Gruber
Julian Burghuber
Sabrina Indinger
Sven Frischmuth
Laura Doblinger
Florian Birnbaumer
Alexander Wimmer
Martin Donnermair
Alexander Filsegger
Thomas Ecker
Michael Stumpf (not pictured)
Muhamed Hamzic (not pictured)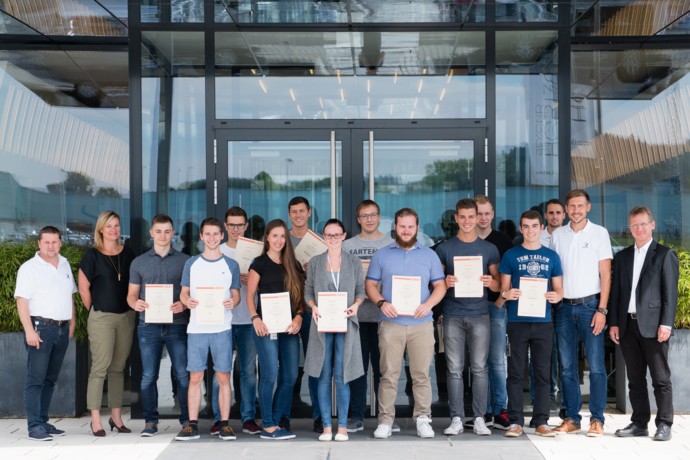 FACC trains the professionals of the future
In the aerospace group, those responsible have been dedicated to the training of apprentices for 17 years. The company's goal is to counteract the shortage of skilled workers by adopting a far-sighted vision.
Our own training workshop, internal specialist training at the FACC Academy, job rotations in a wide variety of company divisions and our own social projects are essential components of our training program.
Helmut Winkler, training manager
In addition to theoretical and practical skills, the company also focuses on conveying social values: Output, performance, team spirit and respect shape FACC's corporate culture. Moreover, young people also receive extensive personality training.
Key qualifications such as honesty, reliability, open-mindedness, punctuality, friendliness, accuracy and helpfulness are very important to us in addition to mastering the craft within the company. They also represent valuable start-up capital for our apprentices.
Otmar Schneebauer, training manager
The continuous cycle of apprenticeship qualifications
After 13 young people had successfully completed their apprenticeship training, 10 new apprentices displaying commitment and a thirst for knowledge started at FACC in August. Three apprentices commenced their training in the field of design engineering, six in plastics engineering and one young person in the field of milling, cutting and machining.
Patricia Kramm
Hannah Diermaier
Lukas Hochhauser – Fabri
Anna Horvath
Vanessa Pögl
Marco Reisinger
Gregor Höckner
Celina Bubestinger
Markus Frankhauser
Eric Anders
Getting a taste of the aerospace industry
In order to give young, committed people the opportunity to get to know the company and the apprenticeships offered and to get a first taste of the aerospace industry, FACC invites young people to take part in trial days from September to February. Those interested can come and see for themselves what the company's comprehensive training is all about.
Personal contact is very important to us – in the FACC Future Team, we train the experts of tomorrow who will also ensure the long-term success of the company
Stefan Schuller, apprenticeship trainer in plastics engineering/milling, cutting and machining