Guided by a shared view of the future
FACC Vision:
OUR VISION IS TO FULFILL THE HUMAN DESIRE FOR MOBILITY IN NEW, MORE EFFICIENT AND SUSTAINABLE WAYS.
Corporate Mission:
We are shaping the mobility of the future using the materials of tomorrow
New solutions require new approaches and we are working on them supported by thousands of experts all over the globe and every day of the week. In these efforts, we are guided by a vision of the future beyond mundane corporate objectives and want to create added value for everyone. We want to contribute towards fulfilling the human desire for mobility in new, more efficient and sustainable ways. We will realize our vision through our materials expertise. Shaping the mobility of the future using the materials of tomorrow is our mission.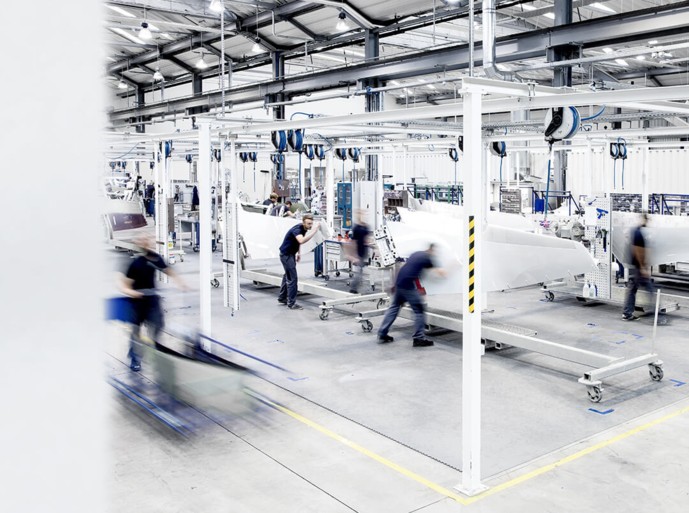 Every second an aircraft with FACC technology on board takes off.
498
million EUR turnover in the fiscal year 2021
more Information
3.000
employees
more Information
13
countries
more Information
42
nations
more Information
Growth as a constant. Operating globally as a success factor.
FACC is a global aerospace leader when it comes to designing, developing and manufacturing advanced aircraft components and systems. As a technology partner of all major aircraft and engine manufacturers, we are collaborating closely with our customers in order to devise solutions for the mobility of tomorrow. All over the world, an aircraft with FACC technology on board takes off every second.
In the fiscal year 2020, FACC generated annual sales amounting to 527 million Euros. We have 2,700 employees from 41 countries working at 13 international sites. Our company is listed on the Vienna Stock Exchange and part of the Fortune 500 AVIC Group.
We have been continually evolving ever since our company was founded in the 1980s. Today, we are one of the leading companies in the field of aerospace lightweight components in the world. Our pioneering spirit and our passion, however, remain unchanged.
Robert Machtlinger, CEO
Customers & Clients
All major aircraft and engine manufacturers as well as tier-1-suppliers of aircraft manufacturers: Airbus, Boeing, Airbus Helicopters, Aviation Partners, Bombardier, Comac, Dassault, Diehl, Embraer, Engine Alliance, Gulfstream, Hawker Beechcraft, Leonardo, Pratt & Whitney, Rolls-Royce, Safran, Collins Aerospace.
Our Image Folder
Our environmental policy: We make flying more eco-friendly
FACC technologies are also environmental winners. They help save weight and therefore fuel while optimizing flight characteristics, thus expanding the total range of aircraft. Our exciting journey continues. We are working on sustainable solutions for the future even as we speak. Our ambition is to ensure that our products make a major contribution towards a more careful way of dealing with the environment and guarantee that our internal processes conform to the highest possible standards. We emphasize the sparing use of raw materials and resources, from electricity to water or heat, and continuously optimize our recycling rates and cycles of materials.