Comfortable, functional & esthetic
Always implementing the best solution with expertise and passion makes FACC the perfect partner for complete cabin interiors: from overhead compartments to lavatories, from space optimization concepts to fascinating multimedia entertainment, from pleasant-to-touch surfaces to an appealing appearance. Efficient and functional for OEMs and airliners, custom-tailored for business jets. Our complete solutions from a single source give you a competitive advantage. They are designed to make you 'feel just like at home when you are in the air'.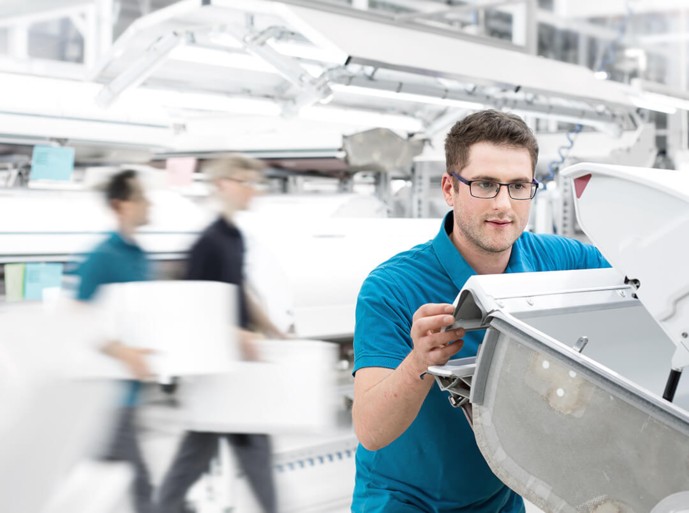 Commercial aircraft
Complete, comfortable, and highly functional – FACC's interior solutions for passenger aircraft.
FACC's interior solutions for passenger aircraft offer a compelling combination of benefits. FACC's developments focus on providing:
More Comfort For Passengers And Aircrews. FACC's solutions impress through optimized space utilization, acoustics and indoor climates, as well as through surface feel, appearance, ergonomics, and user friendliness.
More Efficiency For Aircraft Manufacturers. On request, FACC delivers individual components or pre-assembled modules that simplify the installation process. Intelligent concepts for the connection of FACC components to the primary structure help shorten installation times.
More Individuality For Airlines. The vast range of options regarding shapes and materials allows us to cater to the individual characteristics of each airline.
The provision of complete cabin interiors constitutes one of our core competences. Generous space configurations meet superior acoustics. Pleasant surfaces blend well with refined lighting concepts. The cabin is always presented in the best possible light, and all elements are highly user-friendly.
Cabin interiors designed by FACC include all components: ceiling, floor and sidewall panels, entrance and service areas, galleys, baggage compartments, wardrobes, lavatories, oxygen supply, and also all technical components such as speakers, ventilation, air-ducts, and lighting.
FACC's baggage compartments offer maximum volume paired with highest stability and lowest weight.
Thanks to their special design, FACC's cabin lining solutions (side and ceiling panels) allow for maximum cabin height, optimum legroom, and more available space for one's shoulders. Flat shapes impart to the cabin a generously dimensioned appearance. Visible seams in the ceiling lining are avoided.
FACC is the preferred specialist and partner for
Cockpit Linings

Entrance and Service Linings

Main Cabins

Monuments

Cargo Compartment Linings
Business- Jets / Private Jets
Quality, creativity, exclusivity – FACC takes the limits of what is feasible to another level.
Thanks to its excellent manufacturing flexibility and unique material technologies, FACC is capable of producing premium quality interiors that represent a perfect mix of aesthetics, comfort, and functionality. In doing so, FACC covers all areas, from cockpits to luxury cabins, from galleys to crew-rests.
Manufactured By Specialists: For cabin interiors of business or private jets, FACC offers a wide range of exquisite materials such as exotic veneers, carbon looks, luxurious leathers and fabrics, or carpets. What is more, FACC relies on personnel experienced and skilled in a variety of manufacturing technologies. These employees guarantee high-quality workmanship.
Tailor-Made Solutions: Thanks to its highly specialized engineers and designers, FACC is also the preferred partner for custom-tailored integrated interior solutions.
High Tech. High Comfort. For interior design, FACC integrates entire cabin management systems. All solutions live up to highest quality standards and, in terms of comfort and luxury, fulfill almost every individual customer request. Indirect and direct lighting, fascinating light scenarios, cutting-edge LED technologies, hi-fi, multimedia, and all that with unparalleled ease of operation – FACC brings it on board.
FACC is the preferred specialist and partner for
Cockpit Linings

Cabin Linings

Baggage Compartment Linings
Freighters
Success through lightness and robustness – FACC's interiors for freighter aircraft.
FACC's interiors for freighter aircraft are convincing in two respects. Firstly, the components and solutions are lightweight, robust, and highly functional. Secondly, another priority is to ensure the superior handling of the systems.
Simple and fast installation and removal are the criteria that are essential for interior work, maintenance, and renewal.
Conversion Of PAX Aircraft: FACC is also a specialist for the conversion of passenger aircraft to freighters. FACC's lightweight components, flexible release systems, and intelligent decompression systems are a part of all major PAX-to-freighter conversion programs.
Helicopters
Solutions for all fields of use.
From traffic policing to operations in mountainous regions, from ambulance flights to use as an air taxi – helicopters are suited for use in a wide diversity of scenarios. And FACC's expertise and competence are just as diverse. A wide range of options guarantees customized solutions geared to individual purposes. However, there are also some aspects which all FACC interiors have in common: the tremendous reduction in weight, the superior acoustics, and the safe functionality.