Innovative, lightweight & durable
Lightweight components for wings, tail units, and fuselages have been our core competence for more than 30 years. We are the perfect partner for the development, qualification, certification and production of primary as well as secondary aircraft structures. As a system integrator, we deliver ready-to-install turnkey solutions of the highest quality. 'Perfection Through Passion' is our claim.
We drive development forward
Relying on novel composite solutions, we create components of complex geometries. This helps us reduce the number of components and make aircraft more lightweight and eco-friendly.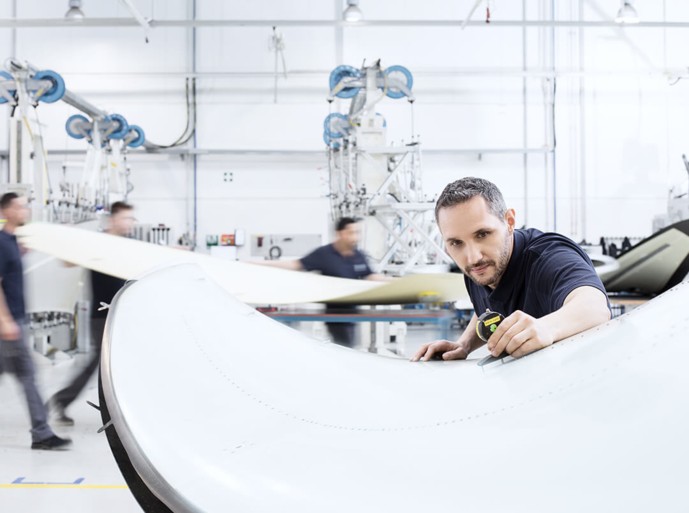 We are a global partner for development and manufacturing.
Building on our strong presence in key future markets for the aerospace industry, we offer our customers commercial competitiveness and help them gain access to new markets and business segments.
Control surfaces
Control surfaces include all the components required to steer aircraft about each of the three spatial axes. For modern aircraft, these surfaces are made of fiber composite materials so as to withstand the high loads imposed, while at the same time keeping component weight to a minimum.
Our Products:
Ailerons

Elevators

Flaps

Rudders

Spoilers & Airbrakes
Fairings
On aircraft, fairings are used to protect underlying structures and systems from adverse external environmental factors. In view of their large surfaces, they also contribute significantly to the aerodynamics. FACC's expertise in the installation and surface treatment of fairings made of fiber composites assures minimal manufacturing tolerances, high dimensional accuracy, and thus optimum flight characteristics.
Our Products:

Flap Track Fairings

Leading Edge Panels

Pylon Fairings

Wing-to-body Fairings
Wing components
FACC manufactures various types of wing components that contribute substantially to both structural strength and the aerodynamics of the respective aircraft models. The portfolio ranges from simple sandwich panels to fuel-saving winglets and first-time applications for high-tech primary structures (wing box prototypes).
Our Products:

Access Doors

Bathtub Panels

Flap Ribs

Ram Air Inlets

Wing Boxes

Wing Panels

Winglets