Lower noise and weight & higher efficiency
Our products in the field of engines are designed for top performance and highest loads. The special manufacturing technologies we apply result in components which set new standards in terms of noise emissions, weight reduction and efficiency in the field of the cold air stream as well as the fairings.
Through structural design and high-tech materials we not only improve the aerodynamic properties but we also increase air traffic safety.
FACC's Service Portfolio: From business jets to long-haul passenger aircraft, FACC is your partner throughout the entire product life cycle and provides: research and development, conceptional design, detail design, testing/certification, manufacturing, product logistics and customer support/after sales service.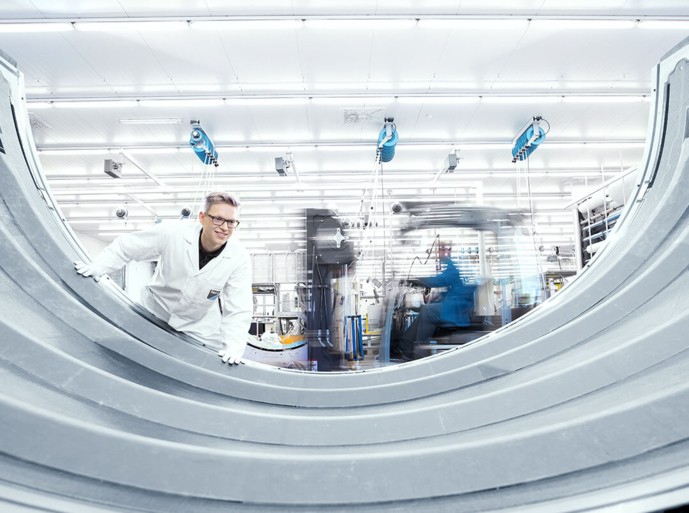 Engine Components
Safe and reliable innovative solutions.
Competence For All Engine Sizes. The global aerospace industry banks on FACC. From the world's biggest passenger aircraft, the Airbus A380, the Boeing 787 Dreamliner, and the Airbus A350XWB, down to smaller size applications on business jets – FACC is heavily engaged as development partner in all essential new developments. FACC's components contribute compellingly to advances in weight, acoustics and aerodynamic performance; fully integral composite solutions supersede classical complex metal applications. Specialized manufacturing technologies enable production to close tolerances and extraordinary overall product quality which constitutes the foundation based on which we meet the highest prerequisites in terms of safety and reliability. Cutting-edge automation and the continued optimization of processes, combined with our global supply chain, generate cost-efficient benefits for customers.
FACC is specialist and partner for
Acoustic Liners

Bifurcation Fairings

Bypass Ducts

Core Fairings

Electronic Boxes

Fan Track Liners

Nose Spinners
Nacelle Components
More than just top-notch components.
Plug & Play Systems. With its innovative drive, FACC helps make aircraft more efficient, lighter and quieter. What is more, FACC ensures that customers get significantly higher value for their money by offering a fully integrated list of services from a single source. FACC continuously upgrades and widens its expertise as a systems integrator and provider of integrated solutions, and it delivers ready-to-install assemblies, large complex structures and entire Nacelle systems.
It achieves its strong performance in terms of technologies and cost-effectiveness thanks to the synergy between all relevant factors. These include the global network for R&D and supply chain partners as well as highly automated cutting-edge manufacturing processes. In FACC, customers get a comprehensively thinking partner that provides all the expertise for tasks of an ever increasing complexity.
FACC is specialist and partner for
Blocker Doors

Exhaust Nozzles

Fan Cowls

Inlet Outer Barrels

Pylon Fairings and Secondary Structure

Translating Sleeves