Urban Air Mobility: The next big step for FACC
Together with EHang, a Chinese technology company, which specializes in autonomous air mobility, FACC is developing new solutions in the field of urban air mobility.
At the beginning of November, FACC has entered into a strategic partnership with EHang, one of the world's most promising autonomous air mobility companies. In a joint effort, the Chinese technology company, which was named one of the "Most Innovative Companies of the World" by Fast Company magazine in 2016, and FACC will optimize the autonomous air vehicles (AAV) and make them ready for series production. In addition, solutions for the individual air mobility of the future will be jointly developed, and research will be conducted on new technologies for AAV.
As a technology partner of the global aerospace industry, FACC has a broad spectrum of systems expertise ranging from research, design, development, certification and global production to the maintenance of high-tech products for aircraft. This enables us to be fully equipped and dedicated when it comes to implementing safe and highly efficient lightweight solutions for individual air mobility around smart cities. In this respect, the partnership with EHang takes us a big step forward.
Robert Machtlinger, CEO von FACC
Based in Guangzhou, China, EHang is a world leader in autonomous air mobility technology. The EHANG 184, the world's first autonomous aerial vehicle, was presented at the Consumer Electronics Show (CES) in Las Vegas in 2016. "We offer world-leading and trend-setting products and solutions for urban air mobility. The partnership with FACC strongly supports us in the implementation of our solutions and in the manufacturing and certification of EHang AAV that will lead to its commercialization. Together with FACC, we will make these technologies available worldwide," emphasizes Hu Huazhi, founder, Chairman and CEO of EHang.
As part of our strategic partnership, we contribute our respective resources and networks, thus creating optimal synergies to jointly advance technologies and solutions in the field of urban air mobility. EHang is the inventor and expert for all questions relating to autonomous air mobility, particularly with regard to connectivity and software solutions. FACC supports high-tech hardware with development, certification, production and worldwide aftermarket services.
We will work closely with industry partners, politicians and aviation authorities to implement the mobility solutions in airspace. It is also planned, in consultation with the authorities, to accelerate the design of the framework conditions and regulations for individual air mobility and, subsequently, the creation of a test field in Austria.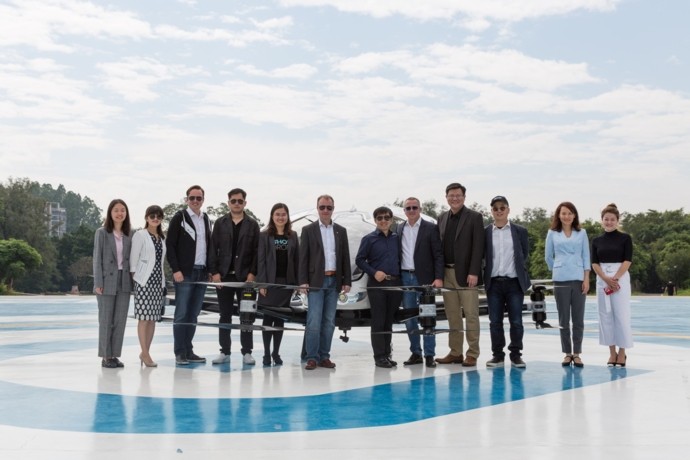 Flying to work instead of being stuck in traffic jams - this has already become reality in some regions of Asia, and we wish to make it possible in the rest of the world.
Robert Machtlinger & Hu Huazhi
Urban Air Mobility: Air taxi to work
The population of the world's cities is growing rapidly. By the year 2030, 5.2 billion people will live in urban regions, about one billion more than today. The proportion of urban dwellers will then be 60 percent of the world's population, which will mean that people will be affected by traffic jams on the roads on a daily basis. Air taxis are expected to help solve traffic problems in cities by using airspace as a "third dimension". Newly developed, environmentally friendly electric drives, high-performance batteries with short charging times, minimal space requirements for take-off and landing areas, fast computers and big data create the necessary conditions for tackling urban air mobility concepts within and between cities. In addition to transporting people or goods, autonomous aircraft offer numerous other applications such as flights to transport urgent emergency goods or high-risk operations from the air in the event of environmental catastrophes. The market potential is very promising: According to a study by Roland Berger, there is a demand for air taxis worth EUR 32 billion over the next decade.