THE FACC ENERGY STRATEGY ALSO BENEFITS THE ENVIRONMENT.
Technological. Sustainable.
FACC aerostructures make aircraft lighter and more aerodynamic, thus saving weight and fuel and making them an all-round environmental winner. Consistent energy management, however, also goes a long way when it comes to boosting energy efficiency and saving the environment.

A clear mission.
As a technology company, FACC has set itself the goal of operating in an environmentally responsible way, to save energy resources by means of targeted measures and to reduce pollutant emissions.
A model from nature!
Less is more. Achieving maximum performance while using the least amount of energy and resources is a concept that nature has perfected long ago – just take the flight of birds. FACC is constantly on the lookout for optimization potentials with a panoptic eagle eye and is implementing a large variety of measures in this regard, ranging from primary energy supply based on natural resources to energy recovery and the use of novel sources of energy, for example by switching to LED lighting in all our plants. The cornerstone of our energy policy, however, is efficient production, giving rise to sustainable environmental benefits while creating long-term added value for our customers and employees.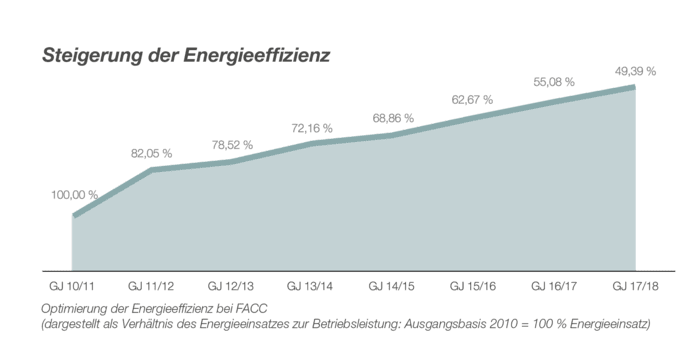 Natural geothermal energy.
All five FACC plants in the Ried area are supplied by means of geothermal district heating – as good as carbon neutral and independent of fossil fuels. To this end, we have installed heating systems using low infeed and return flow temperatures at these sites. State-of-the-art recovery systems are feeding heat generated by production processes into the heating circuit, ensuring an optimum use of energy.
Power from heaven.
FACC does not just tap the earth but also the sky. Photovoltaic power plants will be commissioned at our Reichersberg and Ort sites within the next two years. 100% of the electricity produced by the plants will be used directly at these sites.
Natural. Future-oriented.
By investing in energy efficiency, FACC is not only aiming to increase sustainability for the sake of the environment. Rising energy prices also mean that using energy efficiently is an absolute must (not least from an economic point of view) that represents a crucial base for our long-term competitiveness. What's more, such measures promote the growth of our company because this powerful infrastructure will be able to supply additional facilities without any need for further investments.
Evolution of energy efficiency.
The provisional results generated by all these measures are nothing short of impressive. As we have already mentioned, FACC continues to grow fast and its operating performance is constantly on the rise. Accordingly, a comparison of FACC's energy consumption and operating performance (MWh of power per million Euros of operating performance) is bound to yield highly significant key figures. These calculations show that energy consumption has decreased by more than 44% since 2010 which is why FACC is determined to continue pursuing this path as energetically as possible.