Sustainable air travel of the future
Individual mobility is a basic human need. It is a sign of personal freedom and independence - and contributes significantly to intercultural understanding: people wish to travel, and travelling connects individuals and countries. In this blog post, we will take a look at how large the aviation industry's share in global CO2 emissions is and what goals have been set for the next few years.
Aerospace emissions compared to other transportation sectors
Today, modern aircraft consume on average 80 percent less fuel per seat-kilometer compared to aircraft in the late 1960s. However, demand for air travel has risen sharply since then and this trend is set to continue in the future. Bear in mind that approximately 80 percent of the world's population has never traveled by air. The aviation industry has therefore set ambitious sustainability targets, as an increasing demand should not come at the expense of future generations. Today, the International Energy Agency (IEA) puts global CO2 emissions from the entire transport sector at 8 billion tons. 45.1 percent are caused by car traffic, 29.4 percent by trucks and freight transport, 11.6 percent by aviation, 10.6 percent by shipping and 1 percent by railroads.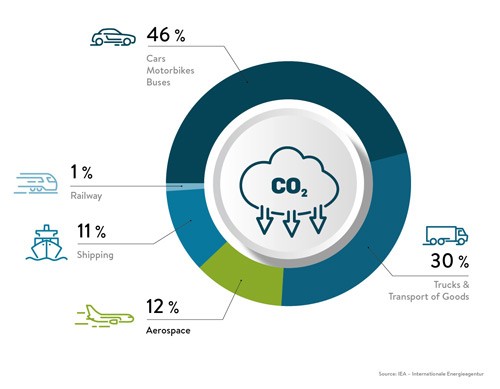 Ambitious Goals for the Future
Since the beginning of 2021, the "Flight Path 2050" has been in force in Europe: compared to the year 2000, CO2 emissions are to be cut by 75 percent and NOx emissions by 90 percent per passenger kilometer by 2025. Noise pollution is to be reduced by 65 percent.
In the United States, the "US Aviation Climate Goal" has had a similar focus since 2021: net zero greenhouse gas emissions are to be achieved in the US aviation sector by 2050. China has also recently announced plans to reduce greenhouse gases in civil aviation by 2030.
The future of flying: from electric drives to sustainable fuel
An important focus of research to achieve these goals is on battery-electric drives, which enable zero-emission air travel. Smaller aircraft with up to 19 seats and manageable range requirements of up to approximately 600 kilometers can currently be operated with the latest electric drive concepts; massive range increases can be expected in the coming years.
Alternatives to conventional kerosene include sustainable fuels that are based on renewable raw materials and can replace fossil fuels. Biofuels fall into this category, as do synthetic fuels. In terms of quality and performance, they can definitely compete with fossil fuels. What's more, they could be blended with conventional kerosene in an intermediate step. For storage and refueling, the airlines can continue to use existing infrastructure facilities.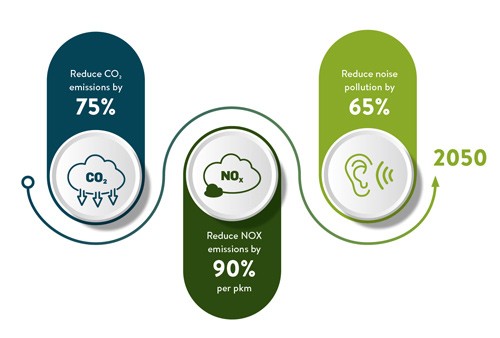 Another alternative approach consists in the use of hybrid drives, that is, the combination of an electric drive with alternative fuels. With hybrid drives, aircraft could take off and land in purely electric mode, while cruising would at least be carbon-neutral.
The latest "Fit for 55" plan of the European Union stipulates mandatory and continually rising blending rates for airlines: starting at 2 percent in 2025, they are to be increased to 5 percent in 2030, 20 percent in 2035, 32 percent in 2040, and up to 63 percent in 2050. Over the entire life cycle, sustainable fuels have the potential of reducing CO2 emissions by up to 80 percent.
The initiatives from the airline industry towards more sustainability are massive. Ranging from the use of materials, life cycle assessments and new aerospace concepts and designs, no stone is left unturned. We are to expect not only more sustainable ways of travel, but as well new concepts, that will allow mobility in a form we haven't experienced yet, e.g. in the very dynamic sector Urban Air Mobility.