Passengers with Reduced Mobility (PRMs) - one of the fastest growing passenger groups in aviation
To understand the needs of a passenger with reduced mobility, we should be aware that the demand is increasing. All demographic indicators show that the population is ageing worldwide. More than one fifth of the world's population in 2050 will have some form of disability, which includes age-related mobility problems.
Definition of PRMs
Passengers with reduced mobility (PRM) are defined by the International Civil Aviation Organization (ICAO) as people whose mobility is reduced by physical incapacity, both sensory and locomotor, or intellectual deficiencies due to advanced age, illness or other disability when using transport, and whose situation requires special attention. ICAO provides guidelines to the various States on how to manage PRM travel. Their recommended guidelines are set out in ICAO document 9984. This is a manual on access to air transport for persons with disabilities. It can be argued that EASA and DOT (United States Department of Transportation) regulations are based on ICAO guidelines.[1]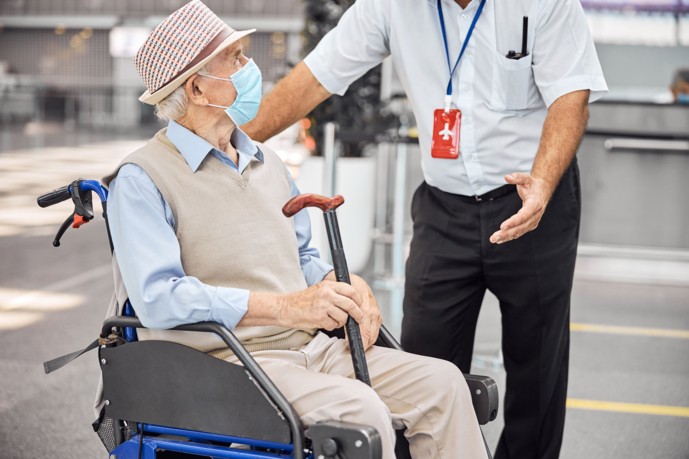 Most airlines/airports classify PRMs under one of the following categories[2]:
| | |
| --- | --- |
| Category | Meaning |
| WCHS | The passenger cannot climb stairs, but can walk short distances. |
| WCHR | The guest only needs the wheelchair to cover longer distances; climbing stairs is possible independently. |
| WCHC | The guest always needs a wheelchair, cannot move around the cabin without assistance - a separate wheelchair is carried along. |
Numbers and facts
Currently, 15% of the world's population lives with some kind of disability. This should provide enough incentive for manufacturers to innovate and develop products that benefit everyone. In Japan alone, the population of people over 65 will be about 26% in the near future. This is equivalent to about 32.5 million people in just one country. The challenge of finding qualified personnel will increase in the future, which will create a special demand for training, as training organisations will have to adapt to all this. It is important for every company to be curious about the global situation of disabled people, to make decisions, to communicate and to market everything properly. The most important requirements are good communication skills of a company and the aspect of personalisation of travellers.[3]
Insights into the "lavatory experience" on board so far
John Morris, accessibility blogger, provides the following insights:
How big are the wheelchair accessible aircraft toilets?
Not all accessible restrooms are built the same. Airlines have different cabin options to choose from, and the most accessible toilets are not always installed. This kind of thinking might have to do with maximising passenger seating and not increasing the weight of the aircraft.[4]
How do you use the aircraft toilet?
If a person is unable to make their way to the aircraft lavatory, the use of an on-board wheelchair is required for this activity. On-board wheelchairs include footrests, movable or removable armrests and appropriate occupant restraint systems. Appropriate overall backrest height helps passengers transfer and manoeuvre when the chair is in use. Wheel locks are installed to prevent the chair from moving during transfer or turbulence or whenever necessary.[4]
What are the travel habits when the aircraft is not equipped with an accessible toilet?
On short-haul flights of a few hours or less where no accessible toilet is available, it is common for PRMs to have to take the following measures:
Dehydration
"Holding it"
Catheterisation
Use of a leg bag or other device to help them relieve themselves[4]

To enhance the flight experience for passengers with reduced mobility, new concepts for aircraft toilets should be developed in terms of accessibility.
The question about the size of the toilet
Antti Suopajärvi answers these and other questions in a survey that provides information on how people with reduced mobility feel before and during their flight.
According to the survey (N=118), 79.7% of the respondents think that the toilet is not spacious enough - only 7.6% think that the toilet meets their needs. 12.7% of the respondents state that information about the disabled toilet is not easily accessible; this is a good point for airlines to improve accessibility information, e.g. on their websites.
In terms of willingness to travel, surveys showed that PRMs would travel 1-3 times more than they do now if toilets were of an appropriate size on narrow-body aircraft. To prevent PRMs from stopping flying because of unsuitable toilets, we need to understand that PRMs would travel even more, as they have similar travel needs as everyone else.[5]
Conclusion
It can be seen that travelling with an impairment cannot be compared to an average journey. The enormous potential of this passenger group should be enough incentive for the aviation industry to deal with this issue in more depth and to take appropriate action (e.g. adaptation of the aircraft lavatory).
Source directory
[1] ICAO 2013. Chargeable Document 9984. URL: https://store.icao.int/en/manual-on-ac-cess-to-air-transport-by-persons-with-disabilities-doc-9984.
[2] Austrian Airlines 2021. Barrierefreies Reisen. URL: https://www.austrian.com/at/de/barrierefreiese-reisen. Accessed: 16 August 2021.
[3] Amadeus 2017. Voyage of discovery. Working towards inclusive and accessible travel for all. Report. URL: https://amadeus.com/en/insights/research-report/voyage-of-discovery-working-towards-inclusive-and-accessible-travel-for-all. Accessed: 16 August 2021.
[4] Morris, J. 2015.Wheelchair Accessible Lavatories. URL: https://wheelchairtravel.org/air-lines-must-decide-airbus-a321lr-accessible-lavatory/. Accessed: 16 August 2021.
[5] Suopajärvi, A. 2021. Accessible travelling, an onboard wheelchair, and an accessible lavatory on a narrow-body aircraft. URL: https://www.theseus.fi/bitstream/handle/10024/496785/Antti%20Suopaj%C3%A4rvi%20-%20Thesis%20-%2007052021.pdf?sequence=2&isAllowed=y