Our crew celebrates the summer
Over 2,000 guests came to our campus in the Innviertel on Saturday, 13 July, to celebrate three decades of FACC with friends and family.
Thirty years ago, FACC began its journey from a small, regional start-up to an international, leading aerospace group. We celebrated this success story not only last June with our partners and customers, but also on Saturday, 13 July, with thousands of employees in St. Martin im Innkreis.
This year's FACC summer party had countless highlights and the enthusiastic guests did not let the adverse weather spoil their party mood. From 5 p.m. onwards, the various entertainment programmes brought fun and excitement to the event. The guests were able to test their skills at the mobility course, prove their courage in the Sky Cage - an 80 meter high glass platform – as well as enjoy the jumping acrobatics on the Air2Bag. Our football enthusiastic employees also competed with each other at the Giant Wuzzler Tournament, with professional support of the local SV Ried players Constantin Reiner, Ante Bajic and Mario Vojkovic. The tournament was commentated by stadium speaker Andi Marek.
The various food trucks and the cocktail bar, where show mixers prepared astounding drinks, provided the guests with delightful food. For our youngest guests a diverse programme was organised, so their parents could relax while the children enjoyed themselves.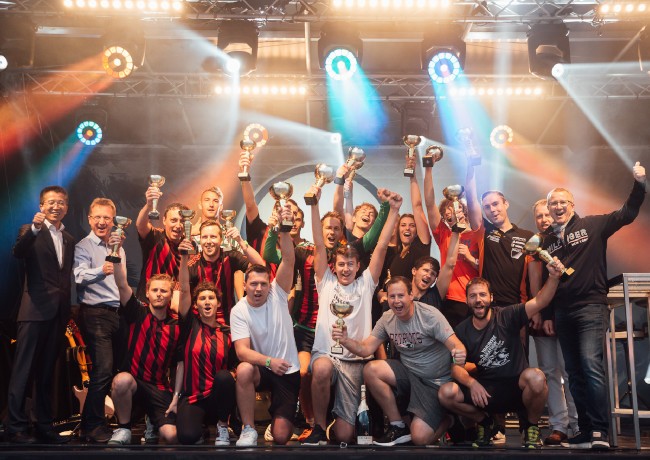 Thirty years of growth and thirty years of innovation
Our CEO Robert Machtlinger opened the summer party with a retrospective view on 30 years of innovation and 30 years of growth: "On the one hand, innovative strength, passion and team spirit and, on the other hand, sustainable customer orientation, pronounced solution competence and agility were and are necessary to achieve our growth and innovations. It is a great privilege to work in a highly innovative industry and thus actively change and shape the mobility of the future." Robert Machtlinger has accompanied the FACC since the 1980s and supported the development of the company from a simple component manufacturer to the leading technology partner of the most renowned aircraft manufacturers. Johann Stehrer, who works in facility and environmental management, has also been with FACC from the very beginning and is particularly proud of the company's impressive success story:
30 very eventful and exciting years have passed, where we developed from the small department within Fischer Ski & Tennis GmbH to the large, international industrial company that we are today. For me, the continuous development of FACC and the establishment and expansion of the plants in the Innviertel, but also internationally at our locations in Bratislava, Wichita, Montreal, Pune (India), China and finally Croatia is what coined those thirty years!
Johann Stehrer