Large-scale investments - Investment offensive as part of FACC's overall strategy
Offering our customers added value while continuing to expand our leadership with regard to technology, costs and quality are vital parameters of FACC's corporate strategy. Our company is gearing up for the future through investments that can only be described as large-scale, not least when it comes to the dimensions of some acquisitions.
EXCELLENT BASE.
Aviation industry forecasts promise a stable growth in passenger figures, with estimates predicting a demand for over 35,000 new aircraft by 2036. As a civil aviation development and supplier company, FACC is well positioned to benefit from this trend provided the following requirements are met: inno-vative products, efficient production and adequate capacities. As things stand, FACC's starting position is ideal for taking advantage of this upward trend. Our specialist technology company is currently filling orders worth more than 5 billion USD, new projects are in the works and our decision to gradually step up production rates was vindicated by customer demand.
CUSTOMERS BENEFIT FROM INVESTMENTS.
In order to actively support FACC customers when it comes to realizing their market expectations, we specifically invest in new technologies, products and the expansion of our production capacities. As evidenced by our new autoclave, some of these investments are quite large indeed as far as their length, width and height is concerned.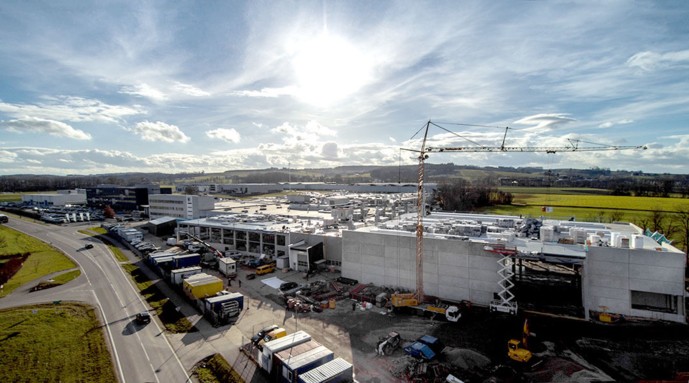 100 MILLION EUROS.
FACC's CEO Robert Machtlinger describes the company's contribution to the future of aviation and comments on the FACC investment offensive: "In the course of the next three years, we will implement an investment program mounting to up to 100 million Euros. It is our response to the strong world-wide growth in air transport and will help us prepare for new technologies and trends. FACC, however, does not only drive progress in the field of light-weight construction. With its innovations and solutions, our company is making a valuable contribution towards safeguar-ding the global need for mobility as well. We are making airway mobility more convenient, more efficient, more comfor-table and more environmentally sustain-able. "As part of its corporate strategy, FACC has set itself the mid-term goal of increasing sales revenues to one billion USD by 2020/21. Current forecasts as well as the commercial success of our customers provide ample proof for the feasibility of this goal.
SPECIFIC EXPANSION PROJECTS.
We are vigorously expanding our plants near our corporate headquar-ters in Ried/Austria. Construction projects range from new autoclave buildings to cleanroom annexes and will also include an expansion of power supply facilities. We are currently creating the capacities needed to ensure high production rates reliably and efficiently.
While this may look easy in theory, it requires maximum commitment and perfect organization in practice, consi-dering that all work has to be comple-ted while day-to-day production op-erations are ongoing. Some projects actually require collaboration beyond the corporate confines of FACC or even the borders of this country. One example for such efforts is the delivery of the new autoclaves.
AUTOCLAVE ON TOUR!
Spanning 19.9 meters and measuring 6.1 meters in diameter, one of these two new pressure vessels is the largest curing oven ever to go into operation at FACC. To ensure that this giant arrived at our plant safely and undamaged, painstaking work by many different spe-cialists was required. It was transported from the manufacturer's site to us via the Rhine and the Danube by ship and continued its journey to FACC by heavy haulage. Numerous power and telepho-ne lines had to be lifted and traffic signs, traffic lines and light poles removed along the route; even some bridges nee-ded to be reinforced as well. Installation commenced immediately after arrival. The new autoclaves ensure that in the future, FACC will be able to offer gua-ranteed capacities required for manu-facturing large-scale components such as thrust reverser casings for the Airbus A350 XWB or the Boeing 787, to name just one example.