Investments in plants and machinery
FACC ranks among the world's leading aerospace groups. As part of this distinctive future-oriented industry, modern plants, machines and equipment contribute to efficient and economical operations.
FACC is pursuing future-oriented investments in its plants within the framework of an extensive investment program. Generous production areas, state-of-the-art machinery and equipment as well as social and communal rooms for employees contribute to sustainable and successful operations.

In order to push ahead as a powerful driver in the aerospace industry, qualified employees, innovative strength, premium quality and locations equipped with state-of-the-art technology are needed. FACC is thus investing in a program spanning several years. The first investment phase has already been successfully completed in line with the Vision 2020 strategy, with 35 million euros invested in Plant 2, "Cabin Interiors", in Ort im Innkreis. The extension works lasted from July 2017 to the end of May 2018 and included the construction of a new heating system, an additional cleanroom including a cutter and technical area covering a surface of 1.540 m2 and an autoclave hall extending over an area of 1.560 m2. The autoclave in this hall is 18 meters long and has a diameter of 6 meters. The production area in Plant 2 has thus been expanded by a total of more than 5.000 m2 and now extends to 21.300 m2, including social rooms and offices. Power supply and high-temperature heat supply capacities were also increased.
Plant 4 was also revamped. In the spring of 2018, a new autoclave hall and the Group's largest autoclave were put into operation in Plant 4, "Engines & Nacelles", in Reichersberg. The autoclave boasts a transport weight of 167 tons, it features an external diameter of 6 meters and an external length of 20 meters. Reconstruction works were jointly launched in May 2017 and lasted approximately one year, with production being resumed as planned on 19 March. Within one year, the production area in Plant 4 was expanded to a total of 29.000 m2 and extended by a tool warehouse and a new metalworking shop in addition to the autoclave hall.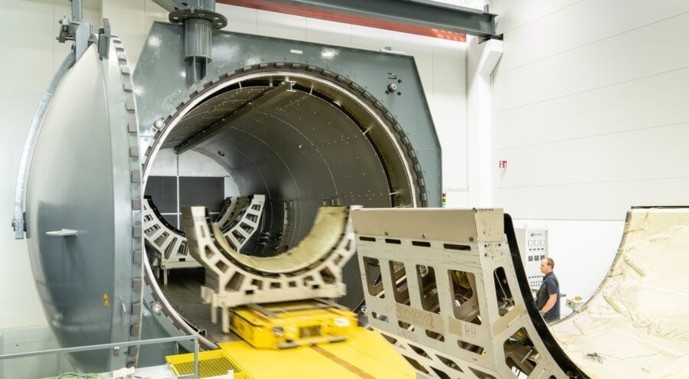 Second investment phase underway
FACC is currently right in the middle of the second phase of its investment program. With an overall budget of 60 million euros, 45 million euros are already being invested in plant capacity expansions in the current financial year. There are plans to extend the halls in Plant 3 by 2.400 m² in order to make space for two new milling and machining centers, an ultrasonic system and a new varnishing booth. The construction works were launched at the end of July and are expected to be completed by mid-2019. In addition to capacity expansions, measures relating to automation, digitization and Industry 4.0 are being actively promoted, and investments in new programs, technologies and research & development are being pursued.
We will be investing a total of 100 million euros over the space of several years. With this strategic investment program across all corporate divisions, FACC is setting the course for the future. We are thus increasing capacities and getting ready for new orders. This will enable us to implement our Vision 2020 strategy in a consistent and targeted manner.
CEO Robert Machtlinger