Interiors - High-Volume Production for a Successful Future
Passenger aircraft can only earn money when they are in the air. For companies fitting out the interiors of new aircraft, this means swift delivery ensuring commissioning at the earliest possible date. When it comes to the manufacturing of interiors components, a high-volume production of units is essential. FACC has set itself the goal of developing a system for CFRP passenger cabin parts that ensures a serial manufacturing of large numbers of parts while keeping production times as short as possible.
Page
Criterion: Speed.
Quality is a key requirement for cabin fittings, with fast and cost-efficient production being a crucial added value. Thanks to its materials and manufacturing expertise, FACC is able to develop solutions ideally suited to satisfy both market and customer requirements. For us, setting high standards for CFRP interiors components in the years to come is a major ambition.
Criterion: Material.
The FACC approach uses carbon fibers in combination with rapidly curing epoxy resin. Our goal is to provide a solution ensuring superior mechanical properties, lowweight components and short process times. As part of a preliminary study, any material under investigation undergoes various tests to provide conclusions regarding its handling and workability and to ensure its compliance with aircraft regulations, for example concerning its fire behavior. To this end, FACC is producing test panels for all of its materials testing projections. Additionally, FACC prototypes are manufactured and tested on a molding tool designed to scale by the Technical University of Munich. Initial results have been highly promising.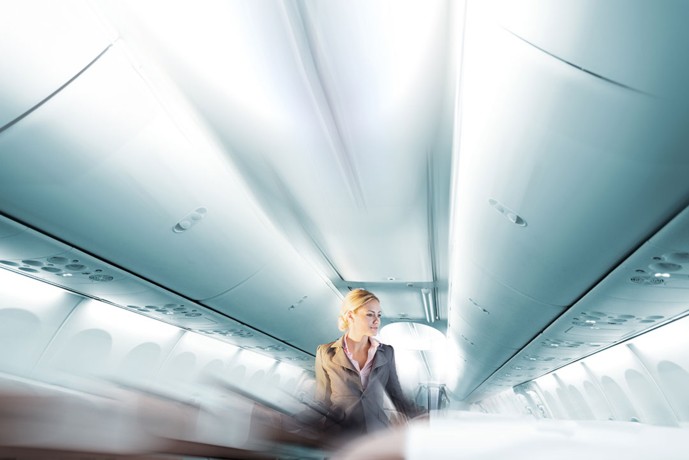 Criterion: Manufacturing.
Due to the low numbers of units and made-to-measure production, components for aircrafts are comparatively often manufactured by hand. For cabin interiors, however, large numbers of identical components are required. Apart from matching suitable raw materials, a fully automated production process is the right approach for achieving shorter process times. FACC is currently working on different concepts allowing an automated layering and curing of fiber composite materials into complex geometries.