Farnborough Airshow: a look back at the fair
Over 1,500 exhibitors from 52 countries and more than 80,000 visitors attended the Farnborough Airshow 2018. FACC made use of this platform and concluded a major order with Airbus.
The Farnborough International Air Show, one of the most important aviation trade fairs in the world, was held in London from 16 to 22 July. More than 1,500 exhibiting companies from the aerospace industry, including FACC, attended the event.
The Farnborough Airshow is considered one of the world's most important exhibition and trading venues of the global aviation industry. The numerous exhibitors and visitors were all in good spirits. The latest innovations, state-of-the-art production technologies and future mobility concepts for aviation were on display. International specialist retailers as well as all renowned aircraft manufacturers came together during these days, thereby creating the perfect setting for establishing new contacts and concluding business deals and orders.
FACC thus signed a new cooperation agreement with its long-standing partner Airbus on the trade fair premises.
The aircraft manufacturer has been placing its trust in the innovations and technologies of the Innviertel-based technology group for several years. The strategic partnership now also covers the entrance areas of the entire A320 aircraft family in addition to the production of the Airspace XL Bins (overhead stowage compartments). The entrance area comprises the entire lining of the area as well as the door area, including the ceiling panels in the front, middle and rear sections of the aircraft. FACC develops and manufactures ready-to-install assembly modules equipped with various system components such as lighting systems, audio systems or oxygen connections. The A320 cabins will feature the new Airspace design, creating a fresh, spacious and modern ambience.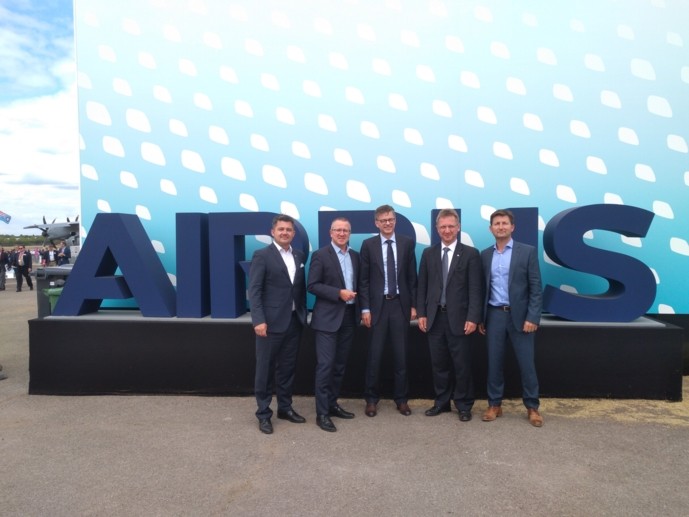 The continuation and simultaneous expansion of the strategic partnership between Airbus and FACC is proof that we are further consolidating our technology leadership. We deliver complete innovative solutions, and our partner Airbus can place its trust in us, our know-how, our customer orientation and our reliability
CEO Robert Machtlinger
With this major order worth several million euros, FACC is investing in a highly automated production line and creating more than 100 additional highly qualified jobs at its Upper Austrian site.
Seven-figure investment as a commitment to the location Upper Austria
FACC is investing in state-of-the-art technology and machinery for the production of the entrance area.
We will invest several million euros in the expansion of our production facilities, above all in highly automated technologies. But this is also a commitment to our location and to our crew." .
CEO Robert Machtlinger
Production will focus on SMC (Sheet Molding Compound) technology, which generates a noticeable cost reduction compared to conventional processes.