FACC.COM awarded as "Best Technology Website"
Our new website - one of the core elements of the new FACC brand presence - was awarded the WebAward 2018 as "Best Technology Website" by the Web Marketing Association.
In recent years, we have developed into one of the world's leading technology companies in the aerospace industry. In line with the evolution and future orientation of the high-tech group, we have opted for a new brand identity. A core element of our rebranding is the new FACC.com website. It was awarded "Best Technology Website" at the WebAwards 2018. The prize is awarded annually by the Web Marketing Association for outstanding Internet presences in various industries.
We offer visitors of our website groundbreaking solutions in terms of content, technical features and user-friendliness. They form the basis for consistently aligning our digital services with all our stakeholders and optimizing the transfer of information.
Robert Machtlinger, CEO of FACC
First impressions count.
Customers, investors, potential future employees - for many people wishing to find out more about a company, the corporate website is the first point of entry. Our website is structured according to specific target groups. The user interface, which has been kept to a minimum, allows visuals and videos to make a lasting impression whilst appealing to the emotions of the viewer and is further enhanced by a sound design.
The new online presence was conceptualized, strategically steered and implemented by Andreas Perotti, Director Marketing & Communications (r.), in collaboration with his team and the advertising agency REICHLUNDPARTNER (m.).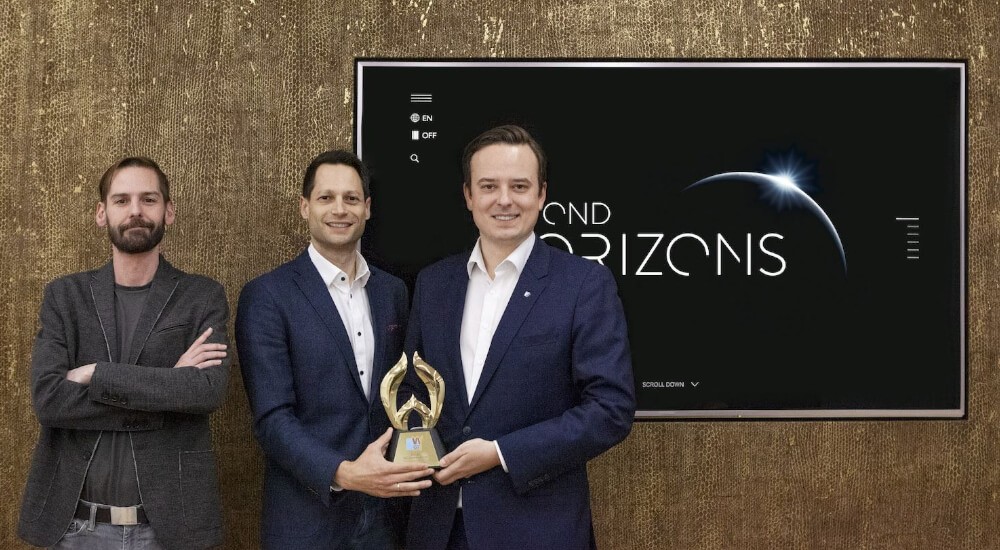 It is well known that we are truly passionate about good marketing and communication. All the more reason for us to be delighted that our commitment has also been honored with this award. I would like to thank everyone involved for the excellent cooperation, both within the company and with our agency partner.
Andreas Perotti, Director Marketing & Communications
Cutting-edge and media hub.
Recruiting employees is an important issue for us - as a constantly growing company. All job advertisements posted on the website are automatically forwarded to karriere.at via an interface. While "Ad-hoc News" in the Investor Relations section provides up-to-date information for this target group, our blog allows readers to gain in-depth insight into the fascinating world of the company and modern civil aviation and encourages people to follow suit. Via the link to our social media channels or the digital press center, our visitors can always find out about news from FACC.
The Power of We!
The concept, design, implementation and content are the result of our proven cooperation with our long-standing agency partner REICHLUNDPARTNER in Linz. One of the challenges we mastered together was the tight schedule. As part of our new brand identity, all digital communication had to be online in the new design by a given deadline. To stay in the world of passenger aviation, together with our advertising partner REICHLUNDPARTNER we were once again "on time as scheduled".
This project clearly shows that modern web appearances require a perfect combination of creativity, technology and content. REICHLUNDPARTNER can offer its customers convincing solutions and optimal support through integrated communication concepts and short distances between the units.
Andreas Gärtner, REICHLUNDPARTNER eMarketing