FACC supplies 100th fan case in metal-composite hybrid construction
FACC develops and manufactures fan cases for the PurePower® PW800 engines from Pratt & Whitney Canada. One year after the series ramp-up, the 100th fan case for PW814/815 engines was successfully handed over to the Customer.
In our long-standing strategic partnership with Pratt & Whitney Canada, the go-ahead was given almost three years ago for the joint development of the PW812 fan cases. In February 2019, FACC took over the production contract for the "larger" fan cases of the PW814/815 engines. Within only three months, our team has made it from the first prototype to the series ramp-up. Exactly one year later, the 100th fan case was handed over!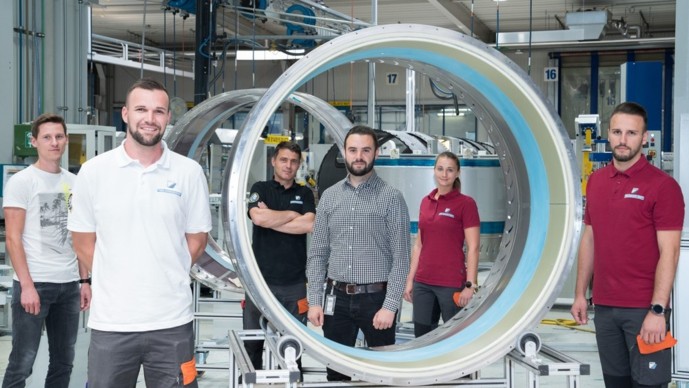 High performance at low weight
The fan case covers the main rotor of the low pressure compressor of the engines. On the one hand, it concentrates the airflow and at the same time serves as a protective casing for the extremely rare case that an engine blade should break away. The external Kevlar coating of the fan casing effectively prevents the damage from spreading to the fuselage of the aircraft. In addition, the acoustic inner surface of the fan case minimizes the noise level and thus contributes to making engines even quieter.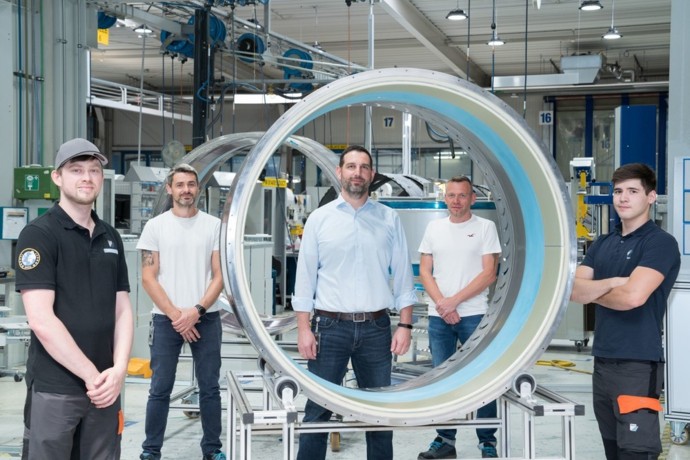 FACC develops first hybrid component
Unlike the majority of the broad FACC product portfolio, the fan case is manufactured in a metal-composite hybrid construction with a new type of adhesive technology. This construction method requires high aerodynamic demands on the surface profile of the fan case and demands maximum accuracy from man and machine.
Eco-efficient engines
The PurePower® PW800 engine series features high fuel efficiency, lower emissions and reduced engine noise. With a thrust of 16,000 pounds, it is specially designed for fast business jets on long-haul flights at high altitudes. The efficient Gulfstream G500 and G600 jets are powered by PW814/815 engines, for example.
(Image Copyright PW800: Pratt & Whitney Canada)