FACC honoured with Export Award
The top-class jury of experts awarded the Austrian Export Prize in silver to the aerospace group.
FACC designs, develops and produces lightweight components and systems. The products and technologies are sold from Austria throughout the world. With a turnover of 750.7 million euros, FACC boasts an export quota of 99.7 per cent - worthy of an award, wouldn't you agree?
FACC closed the best financial year in the company's history with the successful implementation of its operational targets and constant dynamism. This more than clearly confirmed the growth forecasts, improved all key financial figures and increased turnover by 6.4 per cent to 750.7 million euros. These milestones have been highlighted by numerous distinctions including the Pegasus Business Award.
And the company continues to remain on track because the aerospace industry is a sustainably growing sector offering many opportunities which FACC consistently exploits. The increase in passenger traffic, the expansion of the global fleet, the replacement of older models and the desire for more comfort and more space in the aircraft enable FACC to further strengthen its brand and position on the world market. With development steps, know-how and innovative technologies and products, FACC is a leader in scoring with its customers, partners and suppliers all over the world. The trust placed in the leading aerospace group and its highly qualified employees is responsible for an enormously high export quota of 99.7 per cent with a turnover of 750.7 million euros.
Almost 100 per cent of the innovative composite solutions and technologies "Made in (Upper) Austria" are exported.
FACC generates roughly half of its sales in Europe;
Germany, with more than 40 percent of total sales, remains the most important market for the leading Austrian company
followed by the USA with 25 per cent;
But it is especially in the Asia-Pacific region, above all the Middle East, China and India, where FACC can record the highest growth rates.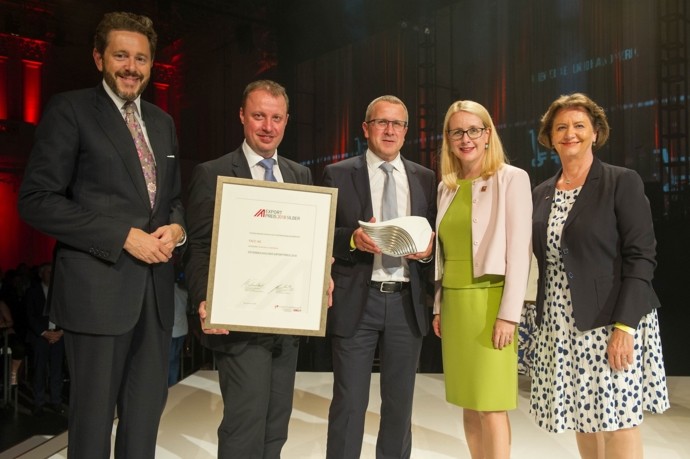 The Asiatic region will be one of the most important future markets for us because hardly any other industry is as internationally positioned as the aviation industry. Our overriding goal is to strengthen the international presence of the company where its customers and their sales markets can be found.
CEO Robert Machtlinger
Due to its strong international performance, FACC was honoured with the Austrian Silver Export Award.
The award is a particular honour for us. The Export Award is a clear confirmation of our successful business activities beyond national borders
CEO Robert Machtlinger
During the festive gala of the Exporters' Nite in the MuseumsQuartier in Vienna, Federal Minister Margarete Schramböck and the President of the Austrian Economic Chamber Harald Mahrer presented the award in the Trade and Crafts category.