FACC counts on thermoplastic fiber composites
Thermoplastic fiber composites are the material of choice for future mobility.
Within the scope of the INSCAPE project, the FACC Research and Technology team explores new materials and technologies for the aerospace industry.
All of us come across thermoplastics all the time in everyday life - in the toothbrush we use daily, at the doctor's or the hospital, or in the car when we go to work or back home.
In aircraft construction, too, thermoplastic fiber composites - briefly referred to as TPC - have become an essential structural material. The material has already been used in the field of cabin interiors for many years, with various connecting elements and fittings made thereof. As regards their use in structural applications, thermoplastics are still in the development phase. This is where the FACC research project INSCAPE comes in.
INSCAPE means "In situ manufactured carbon-thermoplast curved stiffened panel".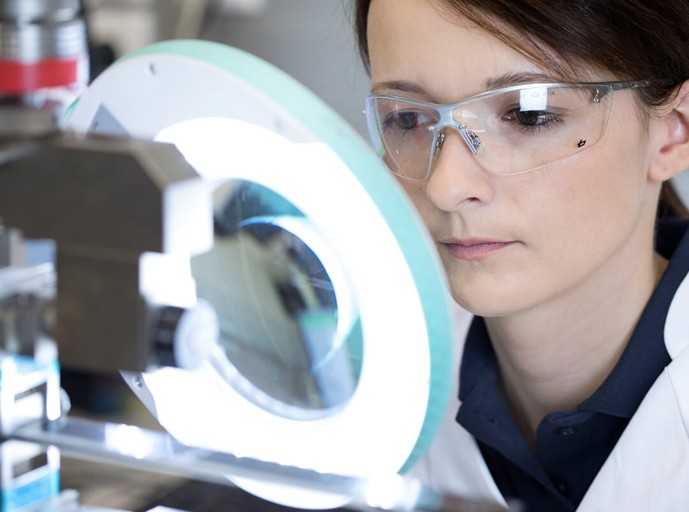 Since January 2016, the Technical University of Munich, AFPT GmbH from Germany, as well as INEGI Instituto de Engenharia Mecanica e Gastao Industrial from Portugal have researched and developed the use and processing of thermoplastic tapes together with FACC. The distinctive characteristic of the material lies in the fact that the plastic does not cross-link irreversibly during processing but can be re-melted after solidifying. The molecular chains are re-heated, and the thermoplastic matrix material can be subsequently formed or welded.
The objective of the research project was clearly defined: to produce a component by directly placing thermoplastic tapes on a double-curved molding tool similar to an aerodynamic surface. In the process, the fiber reinforced plastic PEEK (polyether ether ketone) was placed "in situ", which is probably the most challenging process in the field of thermoplastics at the moment.
The components and tools are designed at the Technology Center of Plant 5 and produced as well as manufactured at the LCC (Chair of Carbon Composites) of the Technical University of Munich.
The application of these thermoplastics will become more and more important in the future as the number of aircraft produced and delivered every month will prospectively be in the order of approximately 60 to 100 units. This requires a quick manufacture of the components which becomes possible, for example, when TPC is used.
By means of Automated Fiber Placement, the tapes are placed directly on the tool and at the same time completely consolidated and welded in the process. Thus, the component is ready immediately after placement and can be welded with other elements as necessary. Due to these processes, the assembly costs as well as the weight of the subassembly are reduced.
In early June 2018, the INSCAPE project headed by Gernot Schneiderbauer and Jürgen Tauchner could be completed. Once again, FACC has proven that the enterprise is one of the leading global players in the field of aerospace.