Achieving Academic Success with FACC
Highly trained specialists are an important competitive advantage for the Aerospace Group.
Do you come from the region around Ried? Would you like to work in the future-oriented aerospace industry? And are you ready for technology? In that case the study programme "Lightweight Construction and Composite Materials" at the Wels Campus of the University of Applied Sciences (FH) is just right for you.
The study programme was integrated in 2016 by the Upper Austrian Economic Chamber, Ried District Office, the local regional companies and the Upper Austrian University of Applied Sciences and supported by FACC. This is because the Innviertel has established itself as an industrial hotspot in recent years and needs highly qualified specialists.
Rising fuel and energy costs as well as carbon dioxide emissions demand efficient and environmentally friendly aircraft. But also rotor blades for helicopters or various elements for engines and cabin interiors are to become even lighter in the future and at the same time withstand the highest safety regulations. Lightweight construction and innovative products will therefore be the central theme of the industry of the future.
As a leading technology partner of aircraft and engine manufacturers, FACC is a strong driving force in this field of lightweight construction and thus remains interesting for customers in the market with new products and innovative systems. This means that the globally active Group offers interested parties exciting prospects in the future-oriented aerospace industry. The course "Lightweight Construction and Composite Materials" at the Upper Austrian University of Applied Sciences in Wels offers a training programme that will cover the increasing demand for appropriately qualified experts in the field of composites very well.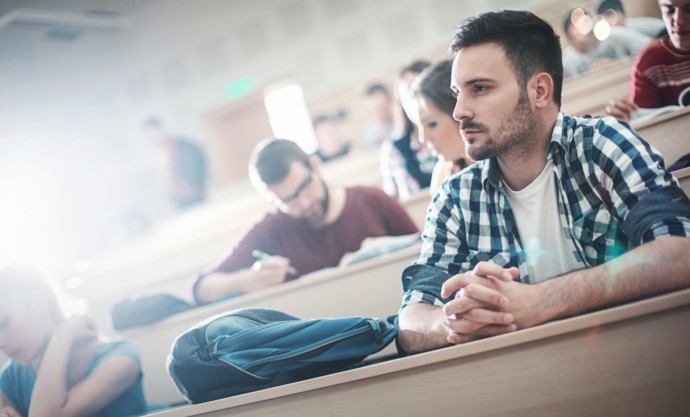 Pupils wishing to receive training in the aviation industry or students who have already successfully enrolled in this course at the Upper Austrian University of Applied Sciences can apply for an exclusive FACC scholarship. Every year, four candidates receive financial support during their studies.
The benefits are:
monthly support during the semester of 500 euros
tuition fees of 364 euros are covered
internships in the FACC plants
the support of competent FACC supervisors for the duration of studies
numerous other benefits such as participation in a wide range of Group events
practical and high-quality studies at Austria's strongest research FH
Internationalisation is systematically promoted during the study programme.
The course of study, which leads to a Bachelor of Science in Engineering, lasts six semesters. The specialists with well-founded know-how are in great demand on the market and have optimum career prospects. FACC wants to win employees for the future with the personal and professional support and promotion of young people, and to employ them sustainably.
The introduction of a Master's programme is planned for 2019