A good start to the new financial year
The figures of the first quarter confirm FACC's successful course and consolidate its strong international position in the aerospace industry.
After the strongest financial year in the company's history, FACC has made successful start to the first quarter 2018/2019, thus continuing on its growth path.
Sales growth was achieved once again, with the result increasing significantly compared to the previous year.
Sales: EUR 192.4 million (+4.4%)
Product sales: EUR 177.9 million (+3%)
Product sales are primarily driven by orders from the Boeing 787, Airbus A320 Family, Airbus A330, Airbus A350 XWB, Bombardier Challenger 350 and Embraer Legacy 450/500 cooperation programs as well as by revenues arising from the respective engine families.
EBIT: EUR 16.3 million (+26%)
We have successfully implemented our targets for the first quarter. All segments of the Group are profitable growth drivers and contribute significantly to this positive development.
CEO Robert Machtlinger
Commitment to the location Upper Austria
Last year, FACC launched a multi-year investment program with a budget of over EUR 100 million. In the first quarter of the new financial year 2018/2019, around EUR 9.7 million were invested in capacity and product growth.
We will continue to intensify our activities in the development and manufacture of new products and our innovation drive, thereby sustainably expanding our position as the preferred technology partner of the aviation industry
CEO Robert Machtlinger
Forecasts and targets entirely within reach
A positive forecast is also given for the 2018/19 financial year: Based on current market assessments and the broad product portfolio, sales growth in the single-digit percentage range is expected.
FACC places particular emphasis on processing the new orders signed last year, which are listed at around EUR 750 million. The first revenues from these cooperations are expected to arise in the first half of the 2019/20 financial year.
The Group's "Vision 2020" strategy clearly stipulates that the sales target of EUR 1 billion is to be achieved in the 2020/2021 financial year. This continues to be the case.
Production rates of the main programs are also to be increased in stages in years to come. The balanced and modern product and customer portfolio and the profitability of all major aircraft families enable FACC to achieve growth in all areas of the company.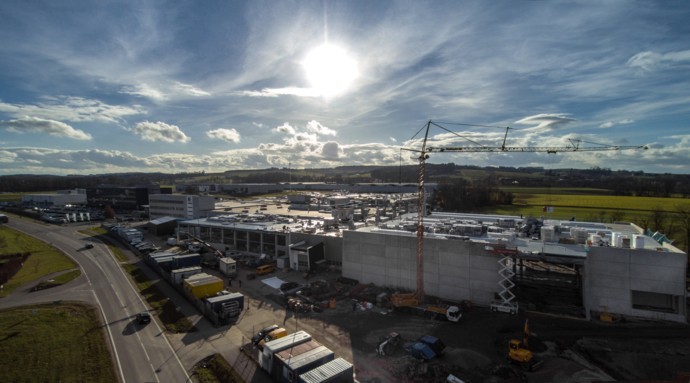 The implementation of our 'Vision 2020' Group strategy with a view to further expanding our position as a Tier 1 technology partner to Airbus, Boeing, Bombardier, Embraer and all renowned engine manufacturers remains our top priority
CEO Robert Machtlinger