1,000th A321 OBF shipset delivered
Innovative FACC technology can be found in numerous elements on board almost every aircraft - including in outboard flaps. The 1,000th OBF shipset has now been successfully delivered by FACC after a production period of just a few years.
The A321 OBF project, which has been running successfully for several years, illustrates just how much technology and innovation FACC products contain. An aircraft of Delta Air Lines will now receive the 1,000th shipset from the Innviertel - made in Austria.
They are around 7.5 meters long, 1.26 meters wide and just under 40 centimeters high: outboard flaps manufactured by FACC. As a technological leader, FACC signed a cooperation agreement with Airbus, and the two international players are now jointly producing the outboard flaps for the entire A321 fleet. The project at Plant 3 in Ort im Innkreis was launched back in 2012 and continues to strengthen FACC's technological leadership. "The special features of FACC outboard flaps are their high degree of automation including tape layers and pulse echo test robots, their sophisticated assembly, but also the size of their components and the clocked assembly line," stresses Robert Machtlinger, CEO of FACC. After only a short development phase, the first shipset was delivered just one year after the start of the project to Airbus Broughton.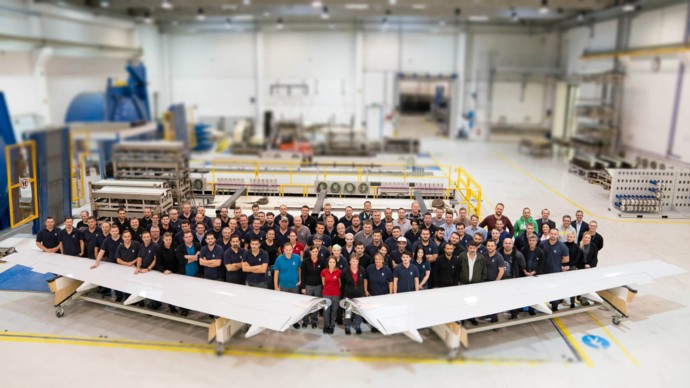 Numerous milestones were achieved during the course of the project, such as the introduction of a clocked assembly line, the implementation of the NEO (New Engine Option) model and the automation of the drilling process with our own robot. Further advantages of FACC's outboard flap production include short lead times and thus being able to deliver on schedule.
Over time, we invested approximately ten million euros in the production of these outboard flaps. On top of this, a further three million are to be invested in a set of lay-up tools due to a rate ramp-up. The optimized assembly line also allows us to supply our customers with high-quality products
Robert Machtlinger, CEO of FACC
Focus on lightweight construction
OBF stands for outboard flaps. These are outboard flaps on the wings of aircraft, which ensure that aircraft are also able to take off at lower speeds. These OBF are made from carbon fiber reinforced plastic - CFRP - and glass fiber reinforced plastic - GFRP - as well as metal parts. Both lightweight construction materials (CFRP & and GFRP) exhibit a high degree of stability, but are lighter than other construction materials.
The production and, above all, the finishing of the outboard flaps require know-how and expertise, which are adequately provided for by the almost 100 FACC experts currently working on the outboard flaps. This involves the entire production division, such as the Program Engineering department, Sales, the Competence Center, Purchasing and many more departments besides. The engineering office in Bratislava also contributed its competence and know-how to the development process.
This has resulted in a rate ramp-up of at least 26 shipsets per month, even though the manufacturing process of these components is unique. The time has now come for the 1,000th shipset to be successfully delivered to Delta Airlines.
We are very proud of the fact that the 1,000th shipset is now leaving our assembly line after many years of continuous further development. Congratulations to the entire team for the excellent cooperation as well as the high level of commitment and dedication.
Robert Machtlinger, CEO of FACC